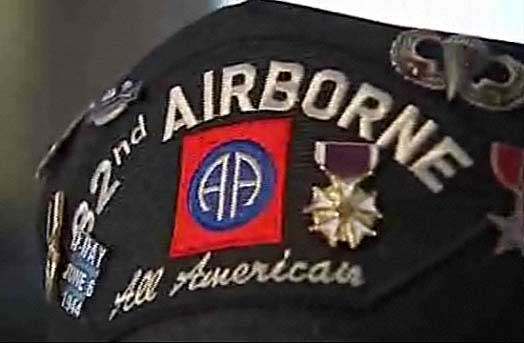 Don Jakeway of Johnstown, Ohio
Sixty-eight years ago, paratrooper Don Jakeway of Johnstown helped liberate a Jewish family from the German-occupied Netherlands during World War II. Last week, Jakeway met the last survivor of that family, thanks to New Albany resident Mark Easton.
Easton said he met Jakeway through a veterans' organization. After hearing Jakeway's story about liberating the Jakobs family from Holland, he set out to find any surviving members of the family.
Through an Internet search, he found Bert Jakobs living in California.
"I called him and said there's someone I think you've got to meet," Easton said.
Jakobs, 78, said he was surprised, especially when he found out that Jakeway had at one time corresponded with Edith Jakobs, his older sister. Jakeway wrote to Edith many years after the war was over.
"I appreciated the opportunity to meet (Jakeway)," Jakobs said. "Mark (Easton) was extremely instrumental in bringing us together. Without him, we never would have met."
The two men shared their stories and some tears Feb. 2 when they spoke at the Jeanne B. McCoy Community Center for the Arts to New Albany seventh- and eighth-graders, as well as some high school students taking American history. Easton said the two men also were scheduled to speak to students at the Columbus Jewish Day School Feb. 3 and at schools in the Johnstown-Monroe School District and Granville Exempted Village School District the week of Feb. 6.
By Lori Wince

ThisWeek Community Newspapers Saturday February 11, 2012 10:45 AM
https://johnniesvillapizza.com/wp-content/uploads/2012/02/Airborne.jpg
343
524
Villa
http://johnniesvillapizza.com/wp-content/uploads/Johnnies_Villa.png
Villa
2012-02-13 00:24:18
2017-10-14 20:45:03
Don Jakeway of Johnstown, Ohio